Mit einem Lieferwagen geht es von Chiang Mai aus in mein zweites Workaway-Projekt in Thailand. Fast 3h brauche ich für die Strecke von nur knapp 50km, denn die zu beliefernden Kunden sind meist weitläufig auf dem Weg verteilt. Und so durchquere ich mehrere kleine Dörfer, deren Namen Google noch nicht kennt, und helfe beim Ausliefern von Reis- und Zuckersäcken, Autoersatzteilen und Haushaltswaren. Irgendwann setzt mich der Fahrer dann an einem Sandweg ab und deutet mir die Richtung meiner letzten Wegstrecke zu Fuss an. Vertrauensvoll lasse ich die letzten Anzeichen dörflicher Zivilisation hinter mir und erreiche bei Tageshöchstemperaturen von fast 40 Grad die kleine Lehmhaussiedlung am Fusse dschungelbewachsener Berge. Angenehm ruhig und friedlich ist es hier, aber das Gelände wirkt auch irgendwie verlassen und schlafend. Für die nächsten Tage ist eine liebevoll gebaute Lehmhütte mein Zuhause und der sanitäre Luxus reduziert sich auf Komposttoilette und Draussendusche.
I'm starting to travel into my second work away project in Thailand with a local delivery truck. I need about 3h for the way of approximately 50km, because the customers are situated mostly spacious in the area. So I pass a lot of small villages which aren't known by Google yet and help to deliver rice and sugar, car spare parts and household goods. At the end the driver droped me off at a dirty road and showed me by a finger sign the direction to continue my way by walking. I let the last parts of civilisation behind me in trust and in front of the jungle mountains I reached the small settlement made of clay. It's very quiet and peaceful here, but the area looks left and sleepy too. A lovingly built clay hut will be my home here for the next days and my luxury would be reduced to compost toilets and open air showers.
Schon vorab hatte ich per E-Mail die Information erhalten, dass sich das Projekt derzeit in einer Wandlungsphase befindet. Die multikulturellen Mitglieder der bisherigen Gemeinschaft sind aus verschiedensten Gründen weltweit unterwegs und eine Familie hat erst vor wenigen Wochen die momentane Weiterführung von Panya übernommen. Ihr Hauptaugenmerk liegt dabei im Neuaufbau einer Selbstversorgung, allerdings nicht dem bisherigen westlich orientierten Permakultur-Fokus des Projektes folgend, sondern auf traditionelle thailändische Garten- und Landbaukultur ausgerichtet. Und so erlebe und unterstütze ich in meiner Arbeit hier eine interessante Umgestaltung basierend auf altem Lokalwissen, welche asientypisch mit viel Geduld und Intuition einhergeht. Perspektivisch sollen im Panya Project Kurse aus verschiedensten Wissengebieten angeboten werden. Doch bis dies soweit ist und es einen konkreten Plan gibt, ruhen die dafür in der Vergangenheit genutzten Räumlichkeiten in friedlicher Schaffenspause.
I got the information via e-mail before that the project is in a conversion phase this time. The multicultural members of the former community are around the world because of different reasons and a family took the continuation of Panya already some weeks ago. Their focus is a reorganization of the self sufficiency changing the western oriented permaculture so far into a way of thai gardening culture. So I experience and support an interesting remodeling based on some ancient local knowledge within my volunteering work, which goes typical with a lot of asian patience and intuition. Their should be courses of many different know areas in future at the Panya Project, but until there is a concrete plan, the classrooms from the past are resting in a peaceful create break.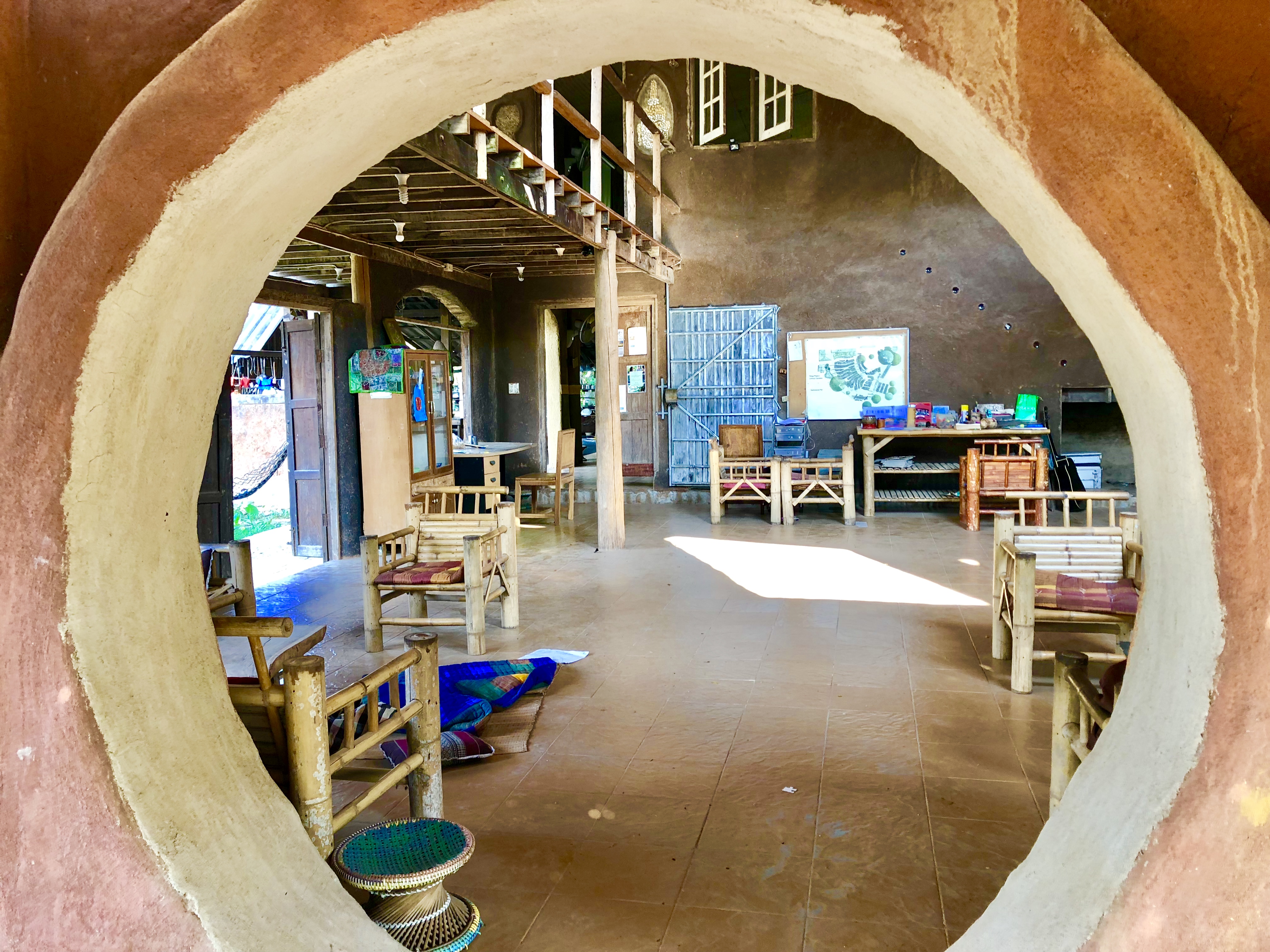 Das Projekt hat in meiner Wahrnehmung jede Menge Potenzial, um in spannender Neuausrichtung eine Gemeinschaft neu entstehen zu lassen. Auch die Kooperationen mit benachbarten Projekten wie der Pun Pun Farm oder dem Earth Home bieten hierfür wertvolle Möglichkeiten der Entwicklung. Und wer mich nun schon länger kennt, würde jetzt vielleicht sagen: "Los geht's, mach mit und bring Deine Erfahrungen und Dein Wissen aktiv mit ein!" Ja, ich liebe es, kreativ zu sein und zusammen mit anderen Menschen Neues zu gestalten. Aber zu unterschiedlich waren hier unsere Verständnisse, um einen Weg in Panya gemeinsam zu gehen. Und so entscheide ich mich nach 1 Woche mit Dankbarkeit für alle Erfahrungen weiter zu ziehen und erst einmal wieder auf Reisen zu sein.
In my perception there is a lot of potential to recreate an exciting community in the project and the cooperations with some neighbour projects like the Pun Pun Farm or the Earth Home could be very precious for the development. Maybe those who know me for a longer time already would say now: "Let's go, join and bring in your experiences and knowledge!" Yes, I love to be creative and creating new together with other people. But our mindsets were to different for going a way at Panya together. So after 1 week I decided to leave the project grateful for all experiences I made and go traveling ahead.